Souper Bowl: January 26, 2013
2:30 PM at the Santa Fe Community Convention Center. Restaurants can sign up for participation in the 19th annual Souper Bowl by calling Sherry Hooper at 471-1633, extension 10 or emailing her at director@thefooddepot.org. Space is limited to 28 restaurants so sign up soon!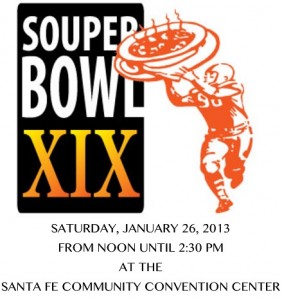 Souper Bowl 2013
Participating Restaurants as of 12/03/12
Asian Restaurant
Azur
Bon Appetit Café at the Institute of American Indian Art Café
Café Pasqual's
Dara Thai
Dinner For Two
Fuego at La Posada de Santa Fe Resort and Spa
Garbo's at RainbowVision
Jambo Café
La Plazuela at La Fonda
Le Pod
Luminaria at the Inn & Spa at Loretto
Nile Café on the Trail
Osteria d'Assisi
Pantry Restaurant
Plaza Restaurant Downtown
Pyramid Café
Raaga – Fine Indian Dining
Rio Chama
San Francisco Street Bar & Grill
Santa Fe Bar & Grill
Sup
Terra Restaurant
At the 2013 event, The Food Depot will continue a delectable tradition by selling cookbooks featuring soup recipes from local restaurants. In order to design the cookbook and have it printed in time for Souper Bowl, The Food Depot will need all recipes by November 30. The food bank is requesting soup recipes for a serving of six – eight. Restaurants providing recipes do not have to participate in Souper Bowl to have their recipe in the cookbook. But, their participation could enable those who purchase cookbooks to get autographs of the recipe creators! To submit a recipe, simply email to director@thefooddepot.org or mail to The Food Depot at 1222 Siler Road, Santa Fe, NM 87507.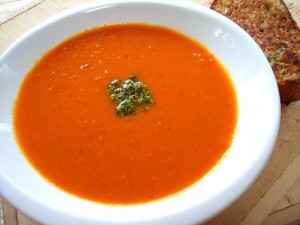 "We're encouraging all restaurants to get involved by sending us their favorite soup recipe. The recipe could be one of the chef's creations, perhaps a soup they've entered into Souper Bowl competition or one they feature on their menu," said Sherry Hooper, executive director of The Food Depot. "Chefs could create a new soup for the cookbook. It's up to them!"
The greatest potential for increased funds raised at Souper Bowl is The Food Depot's silent auction, a very popular feature of the event. Please consider donating items for the auction. We will offer artwork, jewelry, gift certificates and more. Your gift is tax deductible. Your participation will ensure the success of the event, and will support The Food Depot's work to end hunger. Please remember – every dollar raised will enable the food bank to provide four meals.
Beginning January 7, tickets will be available in advance for $25/adults and $10/children 6-12 years of age. Pick up tickets at The Food Depot, 1222 Siler Road or online at www.thefooddepot.org. You can also purchase tickets at the door the day of the event for $30/adults and $10/children 6-12 years of age.
Souper Bowl Sponsors 2013 as of December 4, 2012
Platinum
Bobbi Hall
Herbs Etc
Hutton Broadcasting
KSFR 101.1FM Santa Fe Public Radio
Los Alamos National Bank
SantaFe.Com
Gold
The Santa Fe New Mexican
Silver
Alphagraphics
The Framing Company
Good Water Company
Hal Burns Truck & Equipment Services
Sarcon Construction Corp
Tumbleweeds Newspaper for Santa Fe Families
Bronze
Century Bank
Denman & Associates, Inc.
HUB International Insurance Services
Sponsor
Brian McPartlon Roofing
Hanna Plumbing & Heating Co, Inc
Noel Company
Sunwest Construction Specialities
Western States Fire Protection
Contact Sherry Hooper at (505) 471-1633 to find out more about sponsoring Souper Bowl!