Yee-haw! 'Cowboys Real and Imagined' Gallops to an April Opening
New Mexico History Museum Presents "Cowboys Real and Imagined": Opening April 14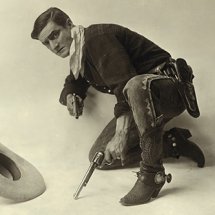 When America needed hard workers, the cowboy was there. The job was dirty and difficult, low-paid and lowly regarded. But when an America torn by the Civil War needed a hero to unite its soul, the unassuming cowboy was an unlikely—and ultimately lasting—pick.
Since riding out of Spanish horse culture, he's been an itinerant hired hand, an outlaw, a movie star, a rodeo athlete, a radio yodeler, and a rhinestoned disco diva. He's been Spanish, Mexican, African American, Anglo, male, female, straight, and gay. His image has been co-opted to sell trucks, beer, boots, beans, jeans, tires, cigarettes, leather couches, presidential candidates, and a lifestyle far beyond the means of real-life buckaroos.
Despite the sometimes tortured lengths our imaginations have taken cowboys and cowgirls, the basic fact of their life is this: a rough-hewn job stacked against steep odds. The daily dangers of working with cattle and horses are matched by volatile global markets, a public with fickle tastes in heroes, and a big sky that can deliver glorious sunshine as easily as tornadoes, droughts and snowstorms.
Today, real cowboys sit uneasily in the saddle (or on the seat of an ATV, occasionally dubbed "a Japanese cutting horse"). Climate change has altered the range and dealt cattle-ranching a potential kill card. Even as popular culture delivers new-and-improved versions of a fanciful life on the range, Cowboys Real and Imagined asks a bare-boned question: Will the people who tamed that range survive?
Using artifacts and photographs from its wide-ranging collections, along with loans from more than 100 people and museums, Cowboys Real and Imagined (April 14, 2013, through March 16, 2014) blends a chronological history of Southwestern cowboys with the rise of a manufactured mystique as at home on city streets as it is in a stockyard.
Augmented by archival footage, oral histories, musical performances, and a programming series that includes showings of classic Western movies filmed in New Mexico, the exhibition anchors the cowboy story in the Land of Enchantment, a place that helped give birth to the real thing and, due to geographical and economical factors, held onto it longer than most other states.
"One of the reasons the cowboy myth has been so pervasive and long-lasting is because anybody could become a cowboy of sorts," said guest curator by B. Byron Price, director of the Charles M. Russell Center for the Study of Art of the American West at the University of Oklahoma and director of the University of Oklahoma Press. "It isn't always what you wear, who you are, or what your attitude is. The exhibit asks: Who is a real cowboy?"
In its search for an answer, Price said, the exhibit discovers that cowboy "is a verb, an adjective, a noun, an adverb."
Despite a career devoted to exploring the story of the cowboy, Price said he was amazed at what he found in the museum's Palace of the Governors Photo Archives, including a small cache of glass-plate negatives. Made by Ella Wormser, the wife of a Jewish merchant, they may be the only visual evidence of trail drives making the transition toward rail transport.
"I went crazy when I found (those)," he said. "She was the wife of a mercantile owner who came to Deming in 1895 and developed an interest in photography. Most significantly, she shot a series of images that followed a roundup near Deming and driven to a railhead through a process of chutes. You cannot imagine how rare this series is. … In one of them, you can see her skirt in shadow, along with the tripod and camera.
"I've spent years studying this and I haven't found any better material than here at the New Mexico History Museum. In New Mexico, because the old style of cowboying still prevails, that attracts photographers—contemporary photographers."
Modern-day shooters represented in the exhibit include Barbara Van Cleve, Lee Marmon, Donald Woodman, and Herbert A. Lotz. Other artifacts include cowboy clothing from the 1700s through contemporary times; the chuck wagon that fed cattle-driving cowboys of northeastern New Mexico's famed Bell Ranch; ephemera from the dude ranches that once speckled the state; and the ads that banked on cowboys to sell products. People who pop up through the exhibit include legendary Lea County cowgirl and rancher Fern Sawyer; singer Louise Massey; actor and film producer Tom Mix; Buck Taylor, "The King of the Cowboys"; Billy the Kid; artist Frederic Remington; Gila River cowboy, trapper and guide Quentin Hulse; and the anonymous Rough Riders, cowboys, and vaqueros whose real-life acts still occupy a wide-open space of the American dream.
As part of the exhibit, the Palace Press is preparing a fine-press version of Jack Thorp's classic Songs of the Cowboys, first published in 1908 in Estancia, NM, on a press now used at the History Museum. Thorp's was a pioneering compilation of songs he heard hummed and strummed around campfires in New Mexico and included tunes from African American cowboys. Most of what he recorded likely would have faded into the starry skies without his effort.
Also at the museum: Tall Tales of the Wild West: The Stories of Karl May recounts the life of a German author who conjured a cowboys-and-Indians world that has resonated in Europe for over a century. In the Mezzanine Gallery through Feb. 9, 2014. For more information on the Karl May exhibit, go to: http://media.museumofnewmexico.org/events.php?action=detail&eventID=1548.
Programming for Cowboys Real and Imagined
Enjoy lectures, classic cowboy movies and a Wild West Weekend during Cowboys Real and Imagined:
Sunday, March 10, 2pm—Don Edwards, America's Cowboy Balladeer. The Grammy-nominated singer, guitarist, songwriter, and historian sings and plays old-time ballads and cowboy songs. $25 at the History Museum Shop; call (505) 982-9543 or log onto www.newmexicocreates.org and click on "Don Edwards concert." Seating is limited.
Saturday, April 13, 6:30pm—Members Preview. Museum of New Mexico Foundation members get a first peek at the exhibit and a chance to put on their best cowboy and cowgirl duds. To join, call (505) 982-6366.
Sunday, April 14—Grand Opening. Visit the exhibit, enjoy refreshments and, at 2 pm, hear a special presentation in the auditorium. Free with admission (Sundays free to NM residents).
Friday, April 26, 6pm—Cowboy movie night: "Tom Mix and Ranch Life in the Great Southwest," with journalist and film critic Jon Bowman. Besides the 1910 Ranch Life, see a showing of the 1915 short, Local Color, filmed in New Mexico. Free.
Sunday, May 5, 2pm—"I See By Your Outfit: Historic Cowboy Clothing," a presentation by Emmy award-winning costume designer Cathy Smith. Smith's lecture is an accurate and humorous look at the historical evolution of the American cowboy through photos of his costume, equipment and horses. Free with admission (Sundays free to NM residents).
Friday, May 17, 6pm—Cowboy movie night: "An Introduction to The Hi-Lo County," with Max Evans. Jim Harris, director of the Lea County Museum, talks with Evans about his storied career, including the making of movies from his works, with a showing The Hi Lo Country (1998). Free.
Friday, July 19, 6pm—Cowboy movie night: "Edward Abbey and Lonely Are the Brave," with oral historian Jack Loeffler. Loeffler discusses his friendship with author Edward Abbey and the transformation of Abbey's novel The Brave Cowboy into a 1962 icon of Western movies, filmed in and around Albuquerque. Free.
Sunday, August 4, 2pm—"Pride in the Saddle in New Mexico: The Story of Gay Rodeo," by Out West producer Gregory Hinton and photographer Blake Little. Hinton and Little talk about the history of gay rodeo in New Mexico and Little's rare collection of gay rodeo photographs taken from 1988-1992, when he was a champion bull rider in the International Gay Rodeo Association. Free with admission (Sundays free to NM residents).
Friday, August 9, 6pm—"Jack Thorp's Songs of the Cowboys," by music historians Mark Lee Gardner and Rex Rideout. Gardner and Rideout perform and discuss the cowboy ballads collected by New Mexico cowboy, rancher, surveyor, and state cattle inspector N. Howard "Jack" Thorp, who published the very first book of cowboy songs at Estancia, NM, in 1908. The Palace Press this year debuts a fine-press reprint of the book with illustrations by Ron Kil. Gardner and Rideout use vintage instruments and historic playing styles to present a close approximation of how this music sounded. Free.
Saturday and Sunday, August 10 and 11, 10am to 4pm—"Wild West Weekend." Two days of family fun celebrating the heritage of cowboys (and gals!) with singing cowboys, saddle makers, trick ropers, boot makers, poets, Dutch oven cooking demonstrations, and more. Mark Lee Gardner and Rex Rideout will lead a one-hour workshop for families on traditional cowboy songs and discuss the New Mexico cowboy lifestyle and culture as represented in music. Free with admission (Sundays free to NM residents; children 16 and under free daily).
Friday, September 20, 6pm—Cowboy movie night: "On the Trail of The Cowboys," with journalist and film critic Robert Nott. Filmed at various locations in New Mexico and elsewhere, The Cowboys (1972) is considered one of John Wayne's greatest movies. Based on the William Dale Jennings' novel, the movie follows a cattle drive from Montana to South Dakota with real "boys," after the grown-up cowboys flee the range in search of gold. Free.
Friday, November 15, 6pm—Cowboy movie night: "Oh, to be a Cowboy," with best-selling author David Morrell. Based on Frank Harris's My Reminiscences as a Cowboy, the 1958 movie Cowboy stars Glenn Ford and Jack Lemmon. A Chicago hotel clerk dreams of life as a cowboy and gets his shot in a cattle-driving outfit. Not surprisingly, the tenderfoot finds out life on the range is neither what he expected nor what he's been looking for. Considered the father of modern action novels, Morrell's works include First Blood and the Rambo series, along with essays like "John Wayne: The Westerns." Free.
Friday, January 17, 6pm—Cowboy movie night: "Revisiting City Slickers," with author Johnny Boggs. Six-time Spur Award-winning author Boggs introduces this 1991 comedy in which a mid-life crisis plagues a man and his friends, who find renewal and purpose on a cattle-driving vacation, filmed at various locations in New Mexico. Starring Billy Crystal and Jack Palance. Free.
"Cowboys Real and Imagined" is generously supported by the Brindle Foundation; Burnett Foundation; New Mexico Humanities Council; Albert and Ethel Herzstein Charitable Foundation, Houston; Candace Good Jacobson in memory of Thomas Jefferson Good III; Newman's Own Foundation; Eugenia Cowden Pettit; Jane and Charlie Gaillard; Palace Guard; Moise Livestock Company; New Mexico Cattle Growers' Association; and the many contributors to the Director's Leadership and Exhibitions Development Funds.
From a New Mexico History Museum Press Release.